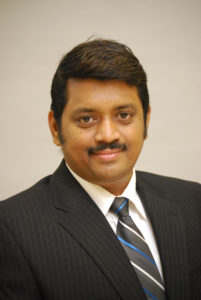 2020 – 2021 Officer: Director of Programs
Phone: +1 (219) 989 3195
Email: magesh@purdue.edu
Computer Graphics Technology​
Purdue University NW, IN 46323
Magesh Chandramouli is a Professor of Computer Graphics Technology at Purdue University Northwest. Earlier, he was a Frederick Andrews Fellow at Purdue University, West Lafayette, where he completed his doctoral studies from the Department of Computer Graphics Technology.
He received Master of Science degree from the University of Calgary , M.Eng. from the National University of Singapore, and B.E. from the College of Engineering, Guindy, India. ​He is a member of the American Society of Engineering Education, Epsilon Pi Tau, IEEE, and MENSA. His research interests include Virtual Reality, Graphics-based STEM instruction, and Genetic Algorithms. He received the Warner Professional Practice Award (2017) from the International Honor Society for Technology and the ASEE/EDGJ Editor's Award for the Outstanding Technical Paper (2016).​